Bill Gates backs climate scientists lobbying for large-scale geoengineering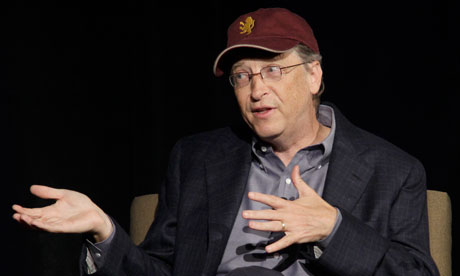 Solar geoengineering techniques are highly controversial: while some climate scientists believe they may prove a quick and relatively cheap way to slow global warming, others fear that when conducted in the upper atmosphere, they could irrevocably alter rainfall patterns and interfere with the earth's climate.
Concern is now growing that the small but influential group of scientists, and their backers, may have a disproportionate effect on major decisions about geoengineering research and policy.
"We will need to protect ourselves from vested interests [and] be sure that choices are not influenced by parties who might make significant amounts of money through a choice to modify climate, especially using proprietary intellectual property," said Jane Long, director at large for the Lawrence Livermore National Laboratory in the US, in a paper delivered to a recent geoengineering conference on ethics.
"The stakes are very high and scientists are not the best people to deal with the social, ethical or political issues that geoengineering raises," said Doug Parr, chief scientist at Greenpeace. "The idea that a self-selected group should have so much influence is bizarre."
"There are clear conflicts of interest between many of the people involved in the debate," said Diana Bronson, a researcher with Montreal-based geoengineering watchdog ETC.
"What is really worrying is that the same small group working on high-risk technologies that will geoengineer the planet is also trying to engineer the discussion around international rules and regulations. We cannot put the fox in charge of the chicken coop."
"The eco-clique are lobbying for a huge injection of public funds into geoengineering research. They dominate virtually every inquiry into geoengineering. They are present in almost all of the expert deliberations. They have been the leading advisers to parliamentary and congressional inquiries and their views will, in all likelihood, dominate the deliberations of the UN's Intergovernmental Panel on Climate Change (IPCC) as it grapples for the first time with the scientific and ethical tangle that is climate engineering," said Clive Hamilton, professor of Public Ethics at the Australian National University, in a Guardian blog.
The scientists involved reject this notion. "Even the perception that [a small group of people has] illegitimate influence [is] very unhealthy for a technology which has extreme power over the world. The concerns that a small group [is] dominating the debate are legitimate, but things are not as they were," said Keith. "It's changing as countries like India and China become involved. The era when my voice or that of a few was dominant is over. We need a very broad debate."
"Every scientist has some conflict of interest, because we would all like to see more resources going to study things that we find interesting," said Caldeira. "Do I have too much influence? I feel like I have too little. I have been calling for making CO2 emissions illegal for many years, but no one is listening to me. People who disagree with me might feel I have too much influence. The best way to reduce my influence is to have more public research funds available, so that our funds are in the noise. If the federal government played the role it should in this area, there would be no need for money from Gates.
"Regarding my own patents, I have repeatedly stated that if any patent that I am on is ever used for the purposes of altering climate, then any proceeds that accrue to me for this use will be donated to nonprofit NGOs and charities. I have no expectation or interest in developing a personal revenue stream based upon the use of these patents for climate modification.".
Rasch added: "I don't feel there is any conflict of interest. I don't lobby, work with patents or intellectual property, do classified research or work with for-profit companies. The research I do on geoengineering involves computer simulations and thinking about possible consequences. The Ficer foundation that has funded my research tries to be transparent in their activities, as do I."
• This article was amended on 8 February 2012. The original stated that Phil Rasch worked for Intellectual Ventures. This has been corrected. This article was further amended on 13 February 2012. Prof Caldeira has asked us to make clear that the fact that he advocates research into geoengineering does not mean he advocates geoengineering.